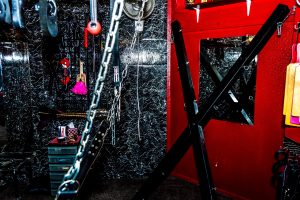 Erotic Dungeon…sophisticated labyrinth outfitted with motorized overhead suspension in multiple areas, kinky devices of all kinds and strapons of all sizes artfully used as complements in exploring your carnal desires.
Bondage benches awaiting their next penitent mount. Crosses to flog you on, slings to capture your surrender and customized gags and chairs that convert you into a willing toilet.
Soundproof rooms to contain your feral expressions of pleasure, sensory bliss and excitement; you know, the groaning, squealing and moaning sounds that escape during moments of ecstasy and rapture.
Did someone say spanking? Wooden paddles, canes, rubber floggers, leather whips, hair brushes, a Spank-O-Matic II and of course my very able hand are all at the ready.
Don't forget the erotic specific electro toys.
Here's a list of just some of the tools I have at my disposal:
BONDAGE 

Suspension Harness

Torture chair

Bondage bench

St. Andrews cross

Sling

Inversion cuffs

Hog tie

Bondage bed

Sit-sling

G-ring

Straight jacket

Collars

Gags of all kinds

Spreader bars

Thumb cuffs

Hand cuffs

Leg irons

Silk and satin scarves

Hoods of all kinds

 

MEDICAL PLAY

Enema bags

Electrical sounds

Manual sounds – Rosebud and Van Buren

Speculums

CROSSDRESSING

Lingerie of all kinds, fabrics colors and sizes

High heels size 7-17

Wigs

Make-up air-pro air brush custom foundation 

Jewelry

Breast forms B-DDD

 

CORPORAL PUNISHMENT

Paddles

Whips

Canes

Floggers

 

TIT TEASE / TORMENT / TORTURE

Suction cups

Clips of all kinds

Hot wax

Weights

Feathers

Fingers

Tongue

Teeth

CBT

Parachutes

Weights

Humbler

Vice clamp

Rings

Electrical devices

Hot wax 


OVERHEAD MOTORIZED SUSPENSION

Bondage harness

Sit sling

G-Ring

Inversion cuffs for the feet and ankles

Suspension cuffs for the hands and wrists

 

ELECTRICAL PLAY

Eros-tek 312 with many attachments

Violet wand with many attachments

Multiple Tens units with a multitude of attachments

 

VENUS 2000

And much, much more.